Crash Or No Crash?
Hey Scoopers,
Despite an abrupt dip in the middle of the day and inflation worries, the indices finished the day in the green. — More on that in the "Overall Market" section.
Beyond the overall market, one company sold more than a million phone sets and investors celebrated the milestone, while a cybersecurity stock got hacked, and its stock price paid for it. — More on that in the "What's Up?" and "What's Down?" sections.
Oh, by the way, people are getting ready for a crash. — More on that in the "Water Cooler" section.
But, first, here is a recap of what happened in the market Tuesday:
Market Recap
U.S. markets: All three indices finished Tuesday in the green. Scroll down to the "Overall Market" section to read more.
Cryptocurrency: Bitcoin's price is hovering above $33,000, well-below its all-time high last week, but well-above where it was a year ago this time.
---
Former Mechanic Reveals His 3-Click, 6-Figure Trading System
"$39,800…$66,500…$158,600…These are the kinds of profits that a former mechanic is making by following a simple, 3-click strategy…A strategy that requires less than 60 minutes a week to execute.
Click right here to view the free training video for more details.
(By clicking you agree to receive email updates and special offers from Market Traders Daily)
---
Inflation Worries

The stock market indices had an abrupt dip mid-day and then recovered to above zero by the end of the day. Investors are watching for the Consumer Price Index (CPI) report that comes out Wednesday morning and looking for any signs of inflation. Even a small increase in CPI may be interpreted as a sign of inflation and could negatively impact market sentiment.
---
New Phone Sets
So, what happened?
Shares of Zoom (Ticker: ZM) were up by more than 5%. The company has fallen far from its all-time high of above $400 per share. Today's stock price upward movement comes after the news that the company plans to raise more than $1.5 billion in new capital through a secondary public offering. The stock price jump wasn't due to the news that it is raising money. It was due to the news that more than one million customers purchased Zoom's new Phone Sets.
---
Bill O'Reilly's Stunning Money Revelation
At the height of his hit TV show, Bill O'Reilly was reportedly making a staggering $37 million a year.
But today, something incredible has happened to his wealth.
For the first time publicly, Bill comes clean about it in this video.
This ought to get interesting…
---
The Protector Got Hacked
So what happened?
Shares of Mimecast (Ticker: MIME) were down by more than 13%. The stock price has been falling steadily over the last few days. The price drop came after the news that the company's security certification was compromised. This breach impacts 10% of the customers. Cybersecurity breaches are always events that turn the sentiment negative, and it's more damaging when the folks who should be able to protect their customers get beached themselves. It's worth watching Mimecast to see how the situation pans out and whether there would be an opportunity to pick up shares at a reasonable price.
---
Is A Market Crash Coming?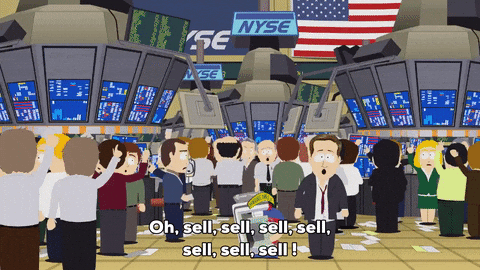 So what happened?
If you have paid attention to the news these days, there is so much talk about a market crash, at the same time as the market keeps hitting all-time highs. It's a dichotomy.
On the one hand, when a new year arrives, everyone focuses on the annual stock market return, and with all three indices wrapping one of their best years in the history of the stock market, it's only natural to think things would surely stop at some point. Beyond the physiological aspect of what goes up must go down at some point, the rise of the long-term yield of the U.S. Treasuries above 1% is being interpreted as a market crash sign.
According to Axios, investors pilled $29.1 billion into cash, $14.9 billion into bonds, and $1.5 billion into gold while the stock market inched upward last week. It seems everybody is getting ready for a crash.
If you have any questions, or suggestions let us know by emailing us at [email protected]. We look forward to hearing from you.