Space Race 2.0
Hey Scoopers,
After investors raised concerns about a priced stock market, all three indices returned negative results. — More on that in the "Overall Market" section.
Beyond the overall market, a company surprised its investors among a selloff that took over the tech sector on Monday. Meanwhile, the markets expect a chipmaker to run out of materials for its chip production. — More on that in the "What's Up?" and "What's Down?" sections.
By the way, what company do you think is the best one to take humankind back to the Moon? — More on that in the "Water Cooler" section.
But, first, here is a recap of what happened in the market yesterday:
Market Recap
U.S. markets: The stock market ended in the red zone on Monday. Scroll down to the "Overall Market" section to read more.
Cryptocurrency: Bitcoin's price ropped to $56K per coin.
---
How Are You Conquering Volatility?
Unfortunately, you'll never fully take control of your financial future if you're only using information from the past – lagging indicators and historical data.To bring your trading success to new heights, you will need a tool that uses past data to predict future stock movements. We want you to find the best trading opportunities faster.
Click here to register for our complimentary demonstration of this forecasting tool
(By clicking you agree to receive email updates and special offers from Vantage Point)
---
Selloff Took Place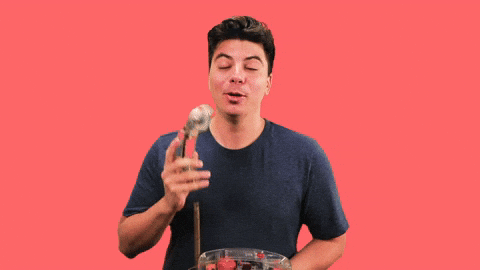 The stock market ended in the red zone on Monday.
After partly recovering losses in the previous week's last session, the stock market plunged. Afraid of an already-priced stock market, investors started to sell off the stocks. Despite pushing above 35,000, the Dow Jones index snapped a five-session winning streak to decrease more than 1%. Along with the Dow Jones index, the S&P 500 index also returned losses. Moreover, the Nasdaq index slightly fell by 2.55%, with the markets under the pressure of higher-than-anticipated inflation in the future.
---
Against the Markets
So, what happened?
Shares of Roblox (Ticker: RBLX) were up by more than 4% on Monday. Despite the tech sector sell-off, Roblox's stock had the strength to climb up. The online entertainment platform unveiled its first Q1 earnings as a publicly traded company. During the first quarter, Roblox witnessed a whopping 79% jump in its user base. Along with the growing daily active users, the company also exceeded the revenue estimate by almost $100 million. Roblox CFO Michael Guthrie stated the good Q1 results enable the company to continue investing in its aggressive long-term growth strategy.
---
How He's Picked All Winners This Year (2021)
…Where former Hedge-fund manager, Jack Carter, reveals details on his highly effective trading strategy… It's so effective that it's currently produced a perfect 2021 (based on 14 trades, so far)… And that's not a fluke either… It also had an incredible 86% win rate in 2020. So if you want to learn details on this efficient strategy…
Then Click Here To Grab Your Seat Now
(By clicking you agree to receive email updates and special offers from DTI Trader)
---
Shortage Longing
So what happened?
Shares of Qualcomm (Ticker: QCOM) were down by more than 6% on Monday. Although the chip manufacturer did not reveal anything bearish about its future or operations, investors started to forecast an even tougher semiconductor shortage. After Taiwan Semiconductors (Ticker: TSM) posted a revenue decrease due to raw material shortages, the markets raised concerns about the reduced semiconductor production, causing more uncertainty in the industry. Despite surrounding tech companies for more than a year, it seems that the semiconductor shortage is not ending soon.
---
Space Race 2.0

So what happened?
Jeff Bezos protested against NASA's SpaceX contract to take humankind back to the Moon.
After the US space agency signed a contract to work with SpaceX to send astronauts back to the Moon, Amazon's (Ticker: AMZN) Founder Jeff Bezos accused the space agency of changing the goals and rules at the last minute. Along with Blue Origin, Dynetics also filed a protest against the decision. The $2.9 billion contracts refer to NASA's Human Landing System, a module that would land the astronauts on Moon soil. For the first time since Apollo, the American government wants to send astronauts to the Moon. The primary mission's goal is to study the Helium-3, a nonexistent component on Earth that could change the way humans produce energy. Dynetics received the lowest-ranked classification out of the three companies, whereas both SpaceX and Blue received a green light from the Space Agency. However, Blue Origin's cost was almost $3 billion more than what SpaceX proposed. Despite choosing Elon Musk's company to build the lunar lander, the pending protest has forced the space agency to hold on to any work related to the contract until the US Government Accountability Office issues its ruling. Both companies expect it to happen by August 4.
It seems that space contracts are the next big thing for defense and aerospace companies.
If you have any questions, or suggestions let us know by emailing us at [email protected]. We look forward to hearing from you.